May I introduce my team?
Sebastian Poll
Managing Director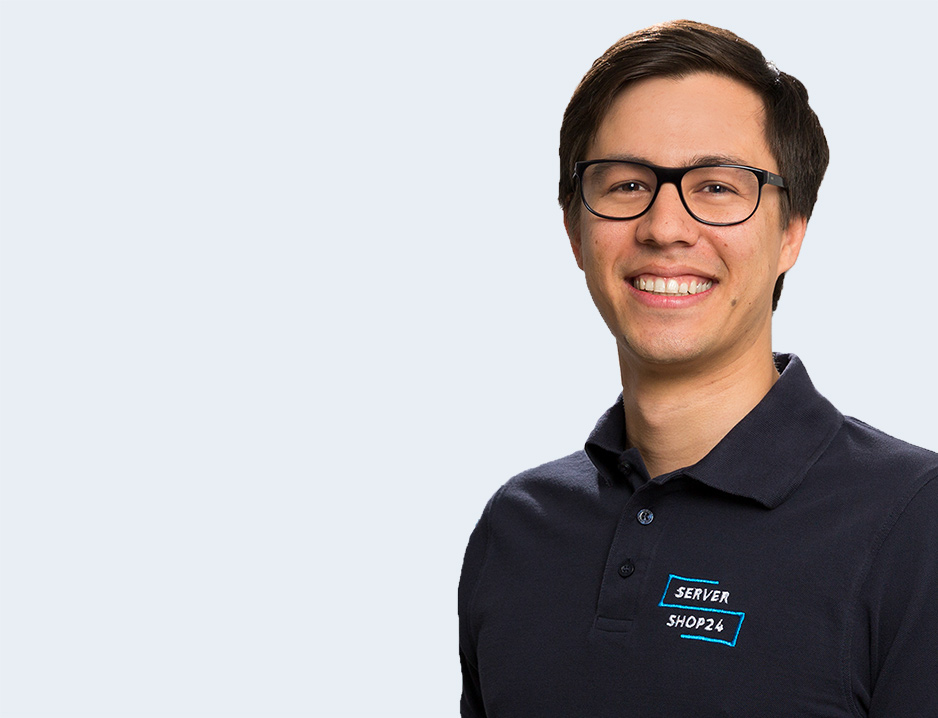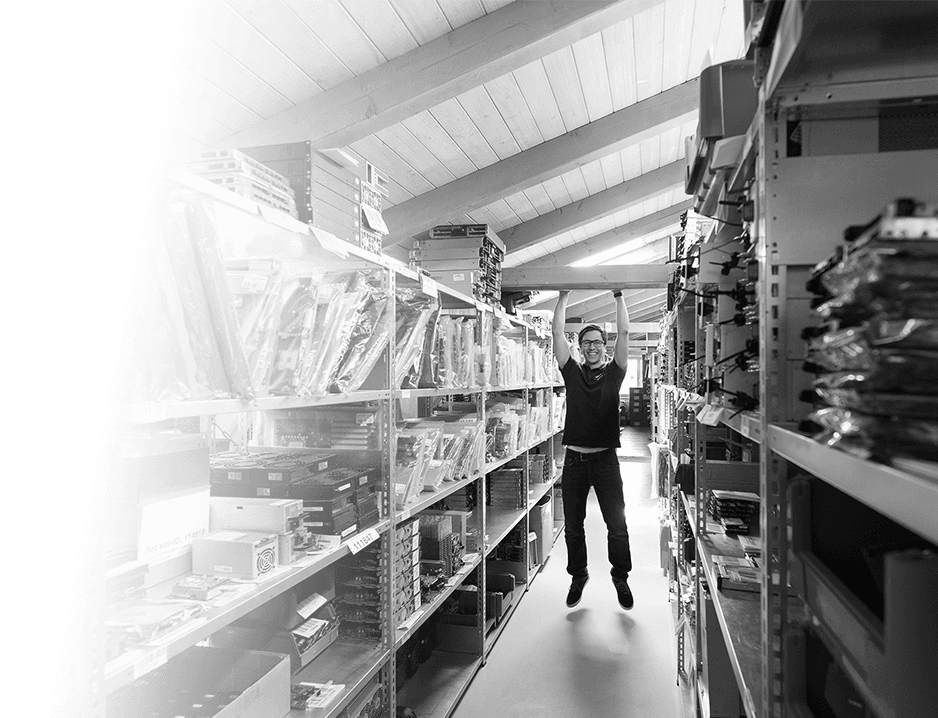 Founder & Managing Director
Sebastian – our 'El Capitan' has set the course of the Tradeo GmbH since its foundation in 2010. His high level of motivation and his passion for this business have since helped the company flourish. His recipe for success: Take one IT enthusiast and add a large dash of personal and economic skill. As business owner and managing director, he is, of course, responsible for everything and everyone in the Tradeo universe..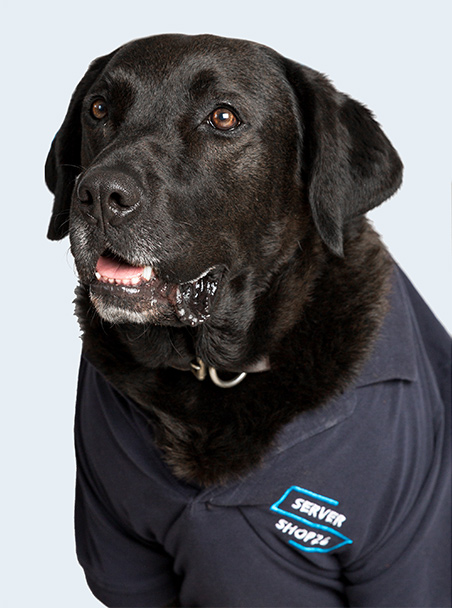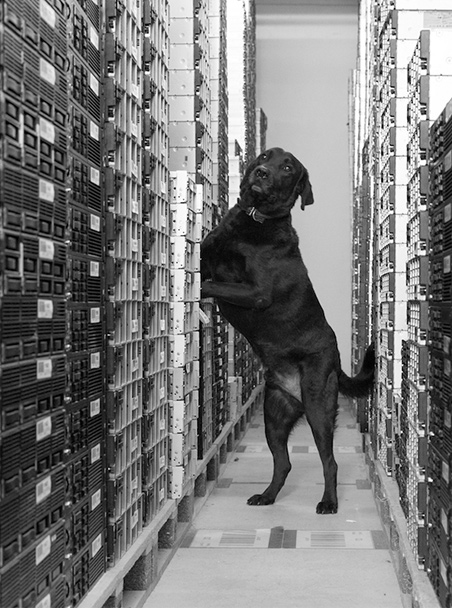 Feel-Good Manager & Food Control
Ludwig has various jobs: For one thing, he greets all visitors and employees and he informs us about deliveries and collections as soon as the doorbell rings. In addition, he uses his excellent sense of smell to make sure all meals are of the best quality and he never gets tired of offering his services as a professional meal taster. He is modest enough to accept a pat on the back from his fans in the different departments as a sufficient reward for his good work – and he won't say no to some treats. At least long as our boss is okay with it, since Ludwig's weight has a bit of an upwards tendency :-)
Sales, Purchasing & Technical Support
Libor leads our sales and support team. We are glad that our customers can benefit from his experience as well as his motivation to solve any problem they might have. Customers love his friendly personality – no matter if you buy something in our shop or if you have to return it for one reason or the another. He and his team do their best every day to make sure that you get excellent replies to your requests without delay!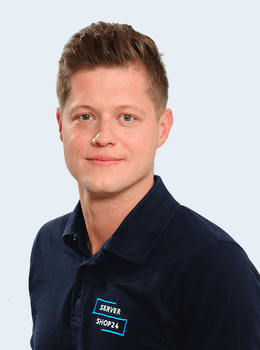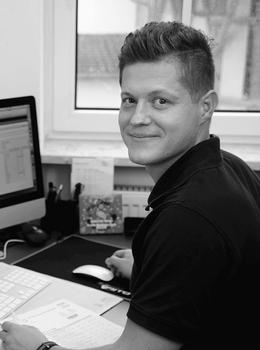 Sales & Customer Support
Alexander is the master of return shipments. No matter for what reason you have to return an order – our company's Matthias Schweighöfer lookalike is the ideal person for the job and will make sure that everything runs smoothly and quick. Talking about quick – that's also how he walks! When our Alex runs through the company, he likes to add some engine sounds. Here goes the returns wagon!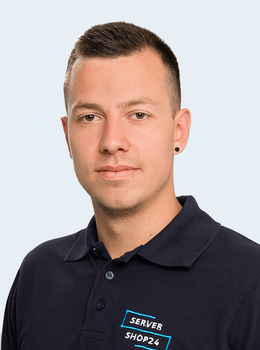 Sales & Customer Support
You have any questions concerning our products? You are already our customer and you require support? Dennis knows what to do, no matter what the problem may be. He takes care of customer calls, e-mails and tickets – with enthusiasm, great care... and his headset.
Sales & Customer Support
Straight from university to a job at our company. Our experienced hardware DIY'er is just the right person to lend his extensive knowledge to our customers. Creating new items in our shop and managing returns is also part of his job. A real jack of all trades, that one!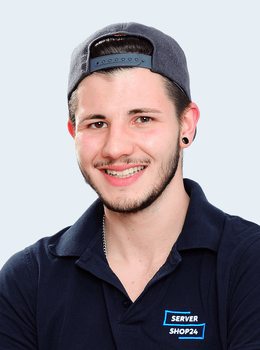 Vertrieb & Kundenservice
Unser Hobby-Boxer Michael hilft in unserem Sales and Support Team dabei die individuellen Anliegen unserer Kunden schnell und effizient abzuarbeiten. Ring frei und Mundschutz rein hier kommt unser Michael.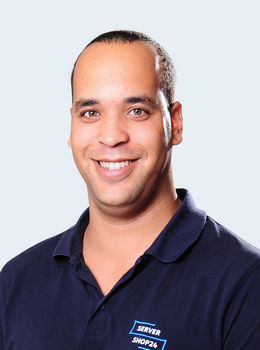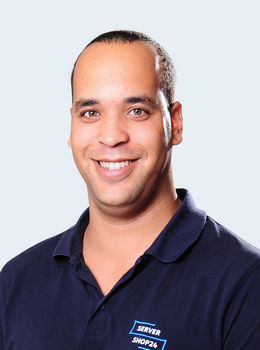 Sales & Support
Unser Dominik ist ein echter IT-Allrounder mit Vorkenntnissen aus den verschiedensten Bereichen! Umso froher sind wir, dass er mit seinem Know-How nun bei uns einen Platz gefunden hat. Egal ob Telefonanfrage, Live-Chat, Email oder Ticket unser Dominik ist immer für Sie da und hilft ihnen mit fachkundigem Support weiter.
Sales
Nadine ist unsere gute Seele im Home-Office. Auch wenn Sie am anderen Ende von Deutschland ihr Zuhause hat, ist sie ein unverzichtbares Mitglied der ServerShop-Familie. Sie kümmert sich mit viel Elan um alle Themen rund um die Auftragsabwicklung. Ein Kunde hat doppelt bezahlt, ein anderer zu wenig - unserer Nadine fällt jede noch so kleine Kleinigkeit auf.
Logistik
Unser Abteilungsleiter in der Logistik ist ein richtiges Multitalent! Man könnte jetzt viel über neue Abläufe, Umbauten und andere Verbesserungen schreiben, die er gleich in den ersten Wochen seines Antritts umgesetzt hat, aber er ist vor allem 1 nicer Abteilungsleiter vong Teamspirit her!
Logistik
Unsere Claudia hat ein Herz für unsere Kunden. Deshalb verpackt sie täglich mit viel Liebe ihre Bestellungen und schickt die Pakete anschließend auf ihre Reise in die Welt.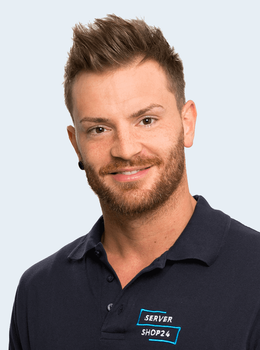 Logistics
This strong man will carry any server. Patrick packs even the most bulky hardware with the utmost care and we often marvel at how easy he makes it look.
Logistik
Mario ist noch gar nicht so lange Teammitglied in unserer Versandabteilung - aber schon jetzt nicht mehr wegzudenken. Er hilft sowohl beim Verpacken der Server wie aber auch beim Konfigurieren. Zusammen mit seinem Bruder Andrej könnten die zwei auch von der Artistengruppe der "Dragi Brothers" sein, so wie sie in der Serverlogistik herumwirbeln wenn's mal etwas mehr zu tun gibt!
Logistik
Der zweite Teil der "Dragi Brothers" ist erst etwas später in die Manege vom ServerShop24 Zirkus eingetreten, bekommt aber seit dem regelmäßig "Standing Ovations" von unserem Publikum für die Qualität, die er in der Server-Logistik an den Tag legt. Und wie es sich im Zirkus gehört, ist er ein richtiger Teamplayer!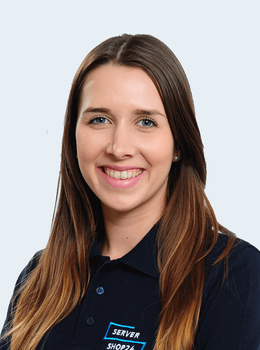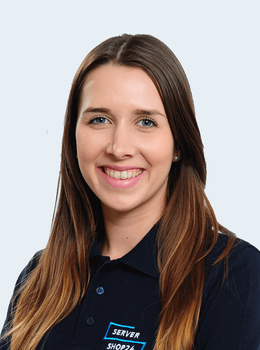 Human Resources
Sophia has been with us for quite some time now. She worked for us a as a working student for a few years. At some point, however, you have to say "Bye Bye University" and start a job – since she studied business economics with HR as her main focus, she is now doing a great job when it comes to managing our staff and potential new colleagues. She puts it like this: "I enjoy human interaction and everything that comes with it – that's why I'm in human resources"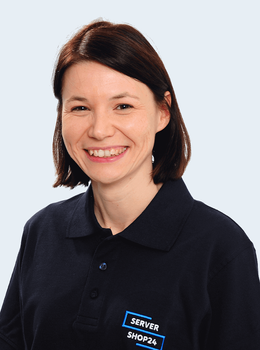 Accounting
Our Michaela knows the ropes! The ropes being her numbers! She and Hans are responsible for everything that has to do with accounting. Outgoing and incoming payments alike – these two have everything under control!
Accounting
Hans is our master of receipts, payments, and refunds. He never misses any faulty receipts, transposed figures or open positions. So he's a typical boring accountant? Far from it! In the summer, our Hans has gasoline running in his veins and he loves to go on tours on his gigantic machine – he has decades of experience when it comes to biking!
Marketing
Regina ist "Neudeutsch" unsere Marketing- und Contentmitarbeiterin. Egal ob es um einen wohlformulierten Newsletter, Kategorietexte oder einen Flyer geht. Unsere Regina kümmert sich um alles, was gut klingen und aussehen soll!
Assistenz der Geschäftsleitung
Unsere Hildegard ist als Assistentin der Geschäftsleitung als tatkräftige Unterstützung von Sebastian nicht wegzudenken. Sie ist ein Organisationstalent, schreckt vor keiner neuen Aufgabe und vor keinem neuen Thema zurück und bringt auch mal den Webshop wieder in Ordnung wenn im Maschinenraum eine Einstellung klemmt. Egal was anliegt unsere Hildegard fuchst sich rein!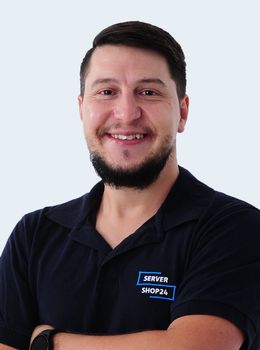 Lager
Weil es unserem Manfred so gut bei uns gefällt, arbeitet er gleich in zwei Abteilungen mit. Blitzschnell und sorgfältig stellt Manfred die Neuware in unseren Onlineshop ein. Zusätzlich unterstützt er das Lagerteam - ob einlagern, picken, Inventur... unser Allrounder-Manfred kann alles.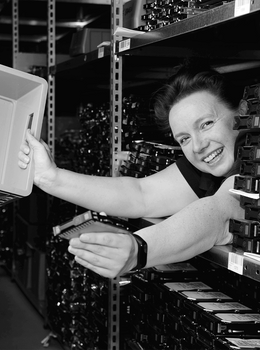 Lager
Susann unterstützt unsere Lagerjungs täglich beim einlagern und picken der Ware für den Versand. Unsere Susann hilft aber genauso bei der Inventur und der Lagerplatzoptimierung mit. Erst wenn alles an seinem Platz ist, ist sie richtig zufrieden.
Lager
Ramona hilft dem Lagerteam bei allen anfallenden Arbeiten. Besonders wichtig ist natürlich, dass jedes Produkt am richtigen Fleck liegt. Bei 166.000 gelagerten Produkten sind wir unendlich froh, dass auch unsere Ramona den Überblick behält.
Lager
Wenn überall die korrekten Dinge, die richtige Menge, zur richtigen Zeit und mit dem richtigen Handgriff zusammenkommen, gibt es zwei Möglichkeiten: Entweder ist Taner im Lager und kümmert sich da um unsere Ware oder er zaubert in seiner Küche etwas, was er am nächsten Tag mit ins Büro nimmt und eine Einbuchung auf unseren Hüftbestand vornimmt. In beiden Fällen ist ein Gewinn für alle!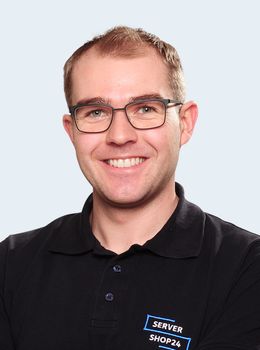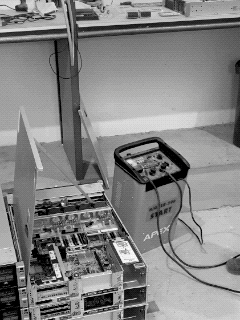 Technik
Stefan ist als Unterstützung im Bereich Servertechnik im Einsatz. Wenn sich unser hauptberuflicher Landwirt nicht gerade um seinen Hopfen kümmert, dann konfiguriert und schraubt er bei uns wie ein Weltmeister. Und wenn ein Server nicht will? Dann gibt er ihm Starthilfe!
Technik
Christian ist unser Fachmann für das aufrüsten und personalisieren von Servern. Er ist mit Feuereifer bei der Sache und konfiguriert jeden Server im Handumdrehen. Sein Spitzname ist übrigens McGyver, weil er schon so manches Problem durch clevere Bastelei gelöst hat!
Logistics
Christa has been with us since the very beginning, which makes her a real mother rock. She has perfected her packing skills and has passed it on to many new colleagues over the years! Our Christa is an essential part of our team and the company's good soul – she always has just the right cure for any pain and ache.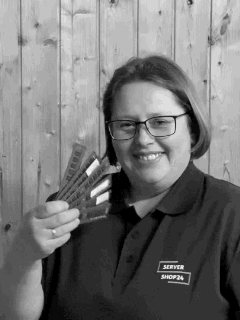 Team Technik
Unsere zweite Claudia im Betrieb ist unsere Recyclingkönigin. Sie zerlegt alte Server professionell, sortiert noch brauchbare Teile aus und entsorgt den Rest fachgerecht.
Technik
Luis könnte das Küken in der Technik Abteilung sein, mit seinem Wissen rund um Hardware - auch wegen seinem Hobby CPUs mit Stickstoff bis zur Grenze des machbaren zu übertakten - hat er schon oft bewiesen dass auch die alten Hasen was von ihm lernen können!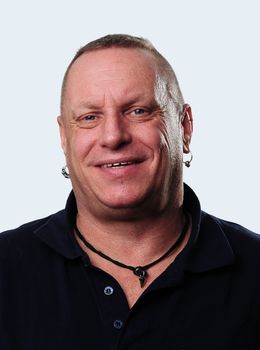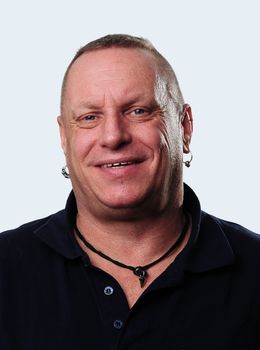 Technik
Hardware Schale, Software Kern! Steffen ist sowohl beim Bau, der Reparatur und der Software-Konfiguration der Server eine richtige Maschine! Unser Allround Talent hat ausserdem ein Auge für Optimierungen, wenn er nicht gerade auf seinem Motorrad unterwegs ist!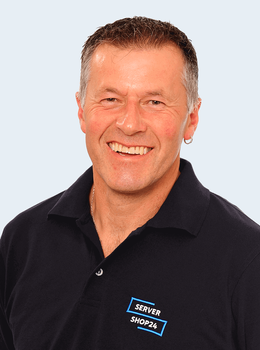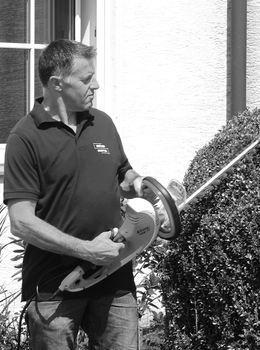 Hausmeister
Hans ist neudeutsch unser Facility Manager. Er kümmert sich um alle handwerklichen Themen rund ums Firmengelände. Egal ob das Grün gestutzt werden muss oder eine neue Glühbirne nötig ist - unser Hans ist zur Stelle!