DL385
HPE ProLiant DL385 Rack servers - The powerful and versatile solution for virtualised environments
Demanding applications place high demands on the computing power of modern server systems, whether in the field of HPC (High Performance Computing) or for the virtualisation of complex environments. The HPE ProLiant DL385 server in different generations with several configuration options often meets the ideal requirements for high performance, availability and reliability.
The DL series from HPE (Hewlett Packard Enterprise) includes server models for use in companies of all sectors and sizes to meet almost any IT infrastructure requirement. Like the DL380, the ProLiant DL385 is a powerful 19" 2U rack server with two processors. But as an AMD based platform, it supports the latest generation of CPUs (central processing units) from Advanced Micro Devices instead of Intel. Older server generations of the DL385 support the installation of Opteron CPUs, which have been replaced in newer models by the much more advanced AMD EPYC processors.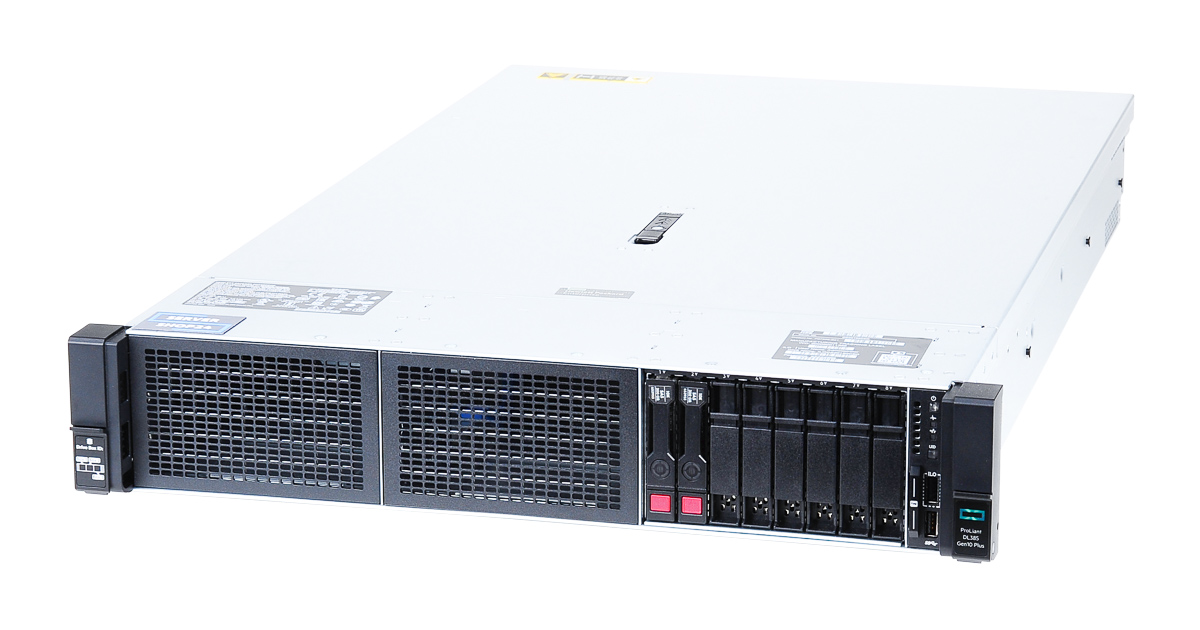 Overview of the technology in HPE ProLiant DL385 server generations
Like all ProLiant models, HPE DL385 servers support the latest hardware standards for server components in each generation. Compatibility is determined by the processor sockets, DIMM (dual in-line memory module) slots for memory, and PCI Express generation support for expansion cards.
HP ProLiant DL385p Gen8
Processors: 2x AMD Opteron 6300 series (up to 16 cores)
Memory: DDR3 ECC RAM in 24 DIMM slots
PCI Express expansion: PCIe 2.0
HPE ProLiant DL385 Gen10
HPE ProLiant DL385 Gen10 Plus
Processors: 2x AMD EPYC 7001 or 7002 series
Memory: 3200 MT/s DDR4 ECC RAM in 32 DIMM slots
PCI Express expansion: PCIe 4.0
HPE ProLiant DL385 Gen10 Plus v2
Processors: 2x AMD EPYC 7002 or 7003 series (up to 64 cores)
Memory: 3200 MT/s DDR4 ECC RAM in 32 DIMM slots
PCI Express expansion: PCIe 4.0
HPE ProLiant DL385 Gen11
Processors: 2x AMD EPYC 9004 series (up to 128 cores)
Memory: 4800 MT/s DDR5 ECC RAM in 24 DIMM slots
PCI Express expansion: PCIe 5.0
Memory
The manufacturer's technical documentation provides important information that should be considered to avoid compatibility issues when upgrading or continuing to use existing RAM modules (Random Access Memory). For example, depending on the configuration, there may be restrictions on the achievable memory speed and possible capacity of the respective DDR RAM standard. Memory intensive workloads benefit from the widely supported and proven ECC technology (Error Correcting Code) to reduce memory errors, making the servers suitable for mission critical applications.

Processors
Selecting the right processors for ProLiant DL385 servers can also be affected by the generation of the device. Although the first (7001 series), second (7002 series) and third (7003 series) generation AMD EPYC CPUs share the same socket SP3 platform, they place specific requirements on the server's motherboard and firmware. When applications such as virtualisation software benefit from a high number of cores, these generations of EPYC-based systems are often ideal for these application areas with up to 32 or 64 cores per CPU. The fourth generation of AMD EPYC (9004 series) is an all-new platform based on socket SP5, with processor models with up to 128 cores, DDR5 RAM and PCIe 5.0 enabling even higher performance.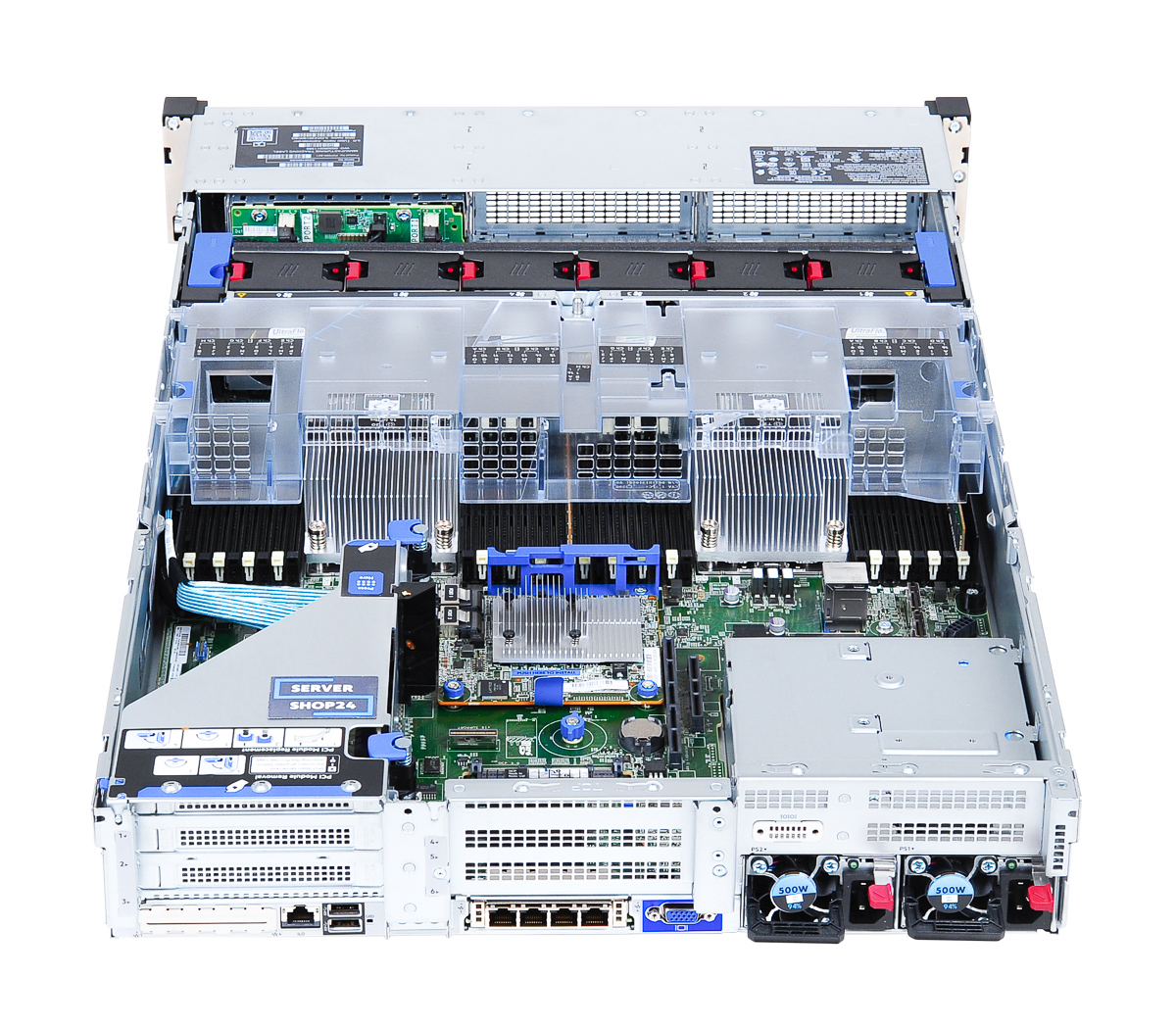 Cooling and power supply
Depending on the chosen configuration, HPE DL385 systems differ in terms of both cooling and power requirements. Redundant power supplies and chassis fans in a range of power classes can be used to ensure reliable continuous operation at consistently high levels of performance.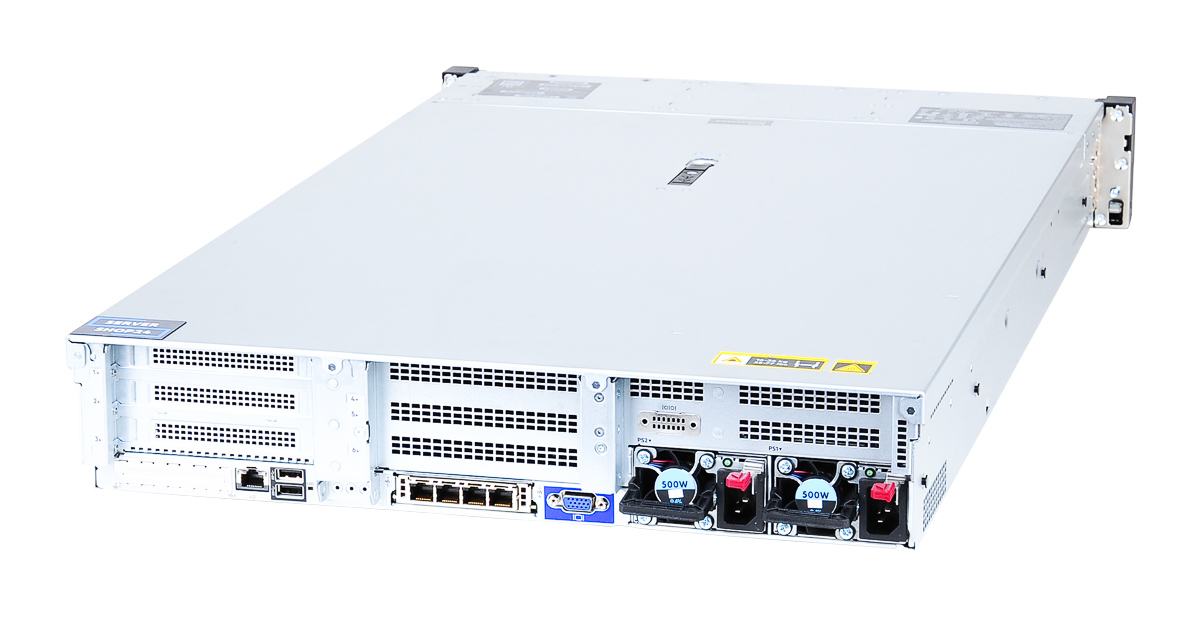 Expansion slots and storage options
The ProLiant DL385 server generations feature PCI Express expansion slots that differ in both technical standards and supported expansion card form factors. The PCIe 2.0 / 3.0 / 4.0 / 5.0 generations increase the achievable data transfer speed within the server, which can result in significant performance differences. A range of optional PCIe risers are also available for the DL385 chassis to accommodate expansion cards of different lengths and heights. These can be used to install multiple graphic cards and compute accelerators for HPC applications, or additional network cards to connect the server to the existing network environment, as well as controllers for storage management and remote maintenance.
The high performance PCIe protocol also has a significant impact on the storage capabilities of the HPE DL385. In addition to conventional HDDs (hard disk drives), the servers also support modern SSD (solid state drives) hard disks of the NVMe (Non-Volatile Memory Express) standard with particularly high speeds. Tri-mode RAID controllers (Redundant Array of Independent Disks) enable flexible configuration of mass storage by supporting the previous standards SATA (Serial Advanced Technology Attachment) and SAS (Serial Attached SCSI) in addition to NVMe. With different drive cages and trays, the server chassis can be configured to provide the storage capacity and performance required for a wide range of complex applications.

Refurbished HPE ProLiant DL385 servers available at low prices - ServerShop24
If you are looking for high-performance server solutions for complex virtualised environments and other demanding application scenarios, used and carefully tested HPE ProLiant DL385 systems from our online shop are a cost-effective alternative to expensive new hardware. Powerful and reliable server hardware, based on AMD CPUs, can fully meet many requirements while saving your budget with an excellent price-performance ratio. The environment also benefits from the reuse of refurbished IT systems, as this makes an important contribution to the sustainable use of natural resources.
Since 2010, we are your reliable partner for professionally refurbished used servers, workstations, storage systems and network equipment. With fast shipping from our large stock, you can get the devices and spare parts you need to optimise your IT infrastructure without long waiting times. Our friendly and experienced support team can help with any questions you may have about products, configuration options and your order. Use the different ways to contact us and we will take care of your request.