DL580
all 0 items immediately available
HPE ProLiant DL580 servers - Performance for the highest demands
With a 19" 4U chassis and support for up to four processors, the DL580 is one of the most versatile and powerful server models in the DL series from HPE (Hewlett Packard Enterprise). Its high reliability makes it suitable for mission-critical applications in complex environments, while its high performance and extensive expansion options meet a wide range of virtualisation and large database requirements. Efficient server management with iLO (Integrated Lights-Out) simplifies the administration of modern IT infrastructures to ensure high availability of demanding applications at all times.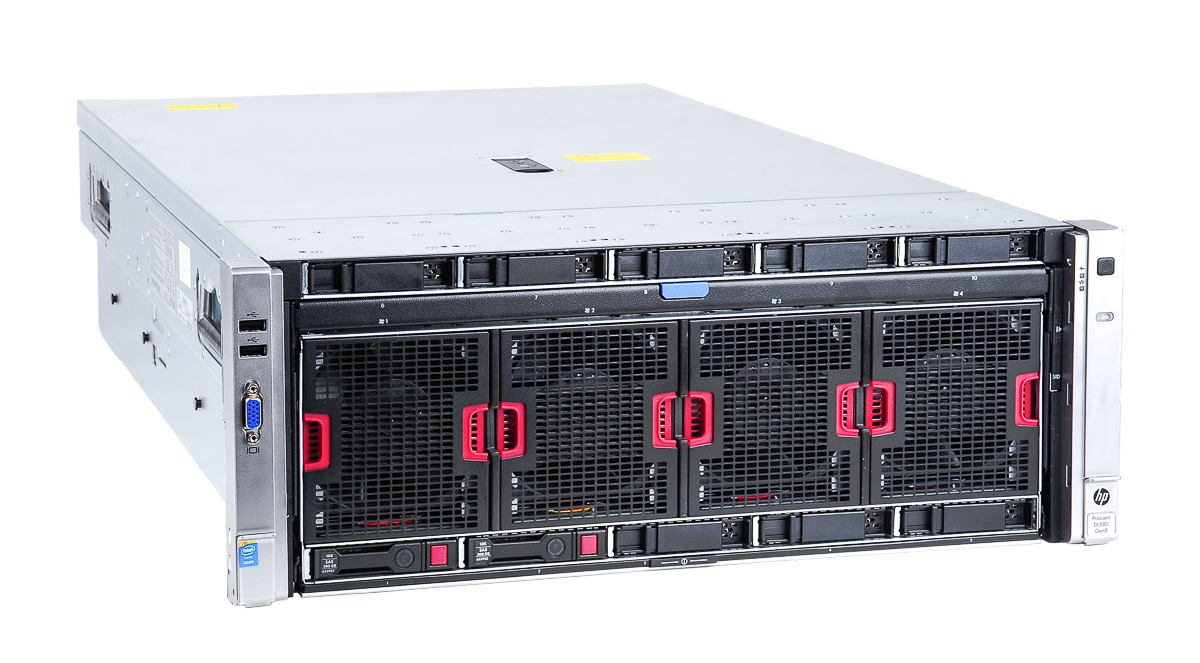 HPE ProLiant DL580 server generations overview
As a high performance professional server solution, the HPE ProLiant DL580 supports the installation of powerful Intel Xeon CPUs (Central Processing Units) in a total of four processor sockets. Depending on the device generation, the motherboard can accommodate processors from different chip generations. When selecting a server, it is important to consult the manufacturer's technical documentation for helpful information on supported hardware standards for each server generation.
HPE ProLiant DL580 Gen8
Chipset: Intel C602J
Processors: 4x Intel Xeon E7-4800/8800 v2
Memory: DDR3 ECC RAM in 96 DIMM slots
PCI Express Generation: PCIe 3.0
HPE ProLiant DL580 Gen9
Chipset: Intel C602J
Processors: 4x Intel Xeon E7-4800/8800 v3 or v4
Memory: DDR4 ECC RAM in 96 DIMM slots
PCI Express Generation: PCIe 3.0
HPE ProLiant DL580 Gen10
To ensure consistently high performance, even under heavy load, the server is equipped with powerful chassis fans to provide airflow to the large CPU heatsinks and other system components, removing heat from the chassis. Up to four redundant power supplies, available at different power levels for a wide range of configurations, also ensure high reliability and fail safety.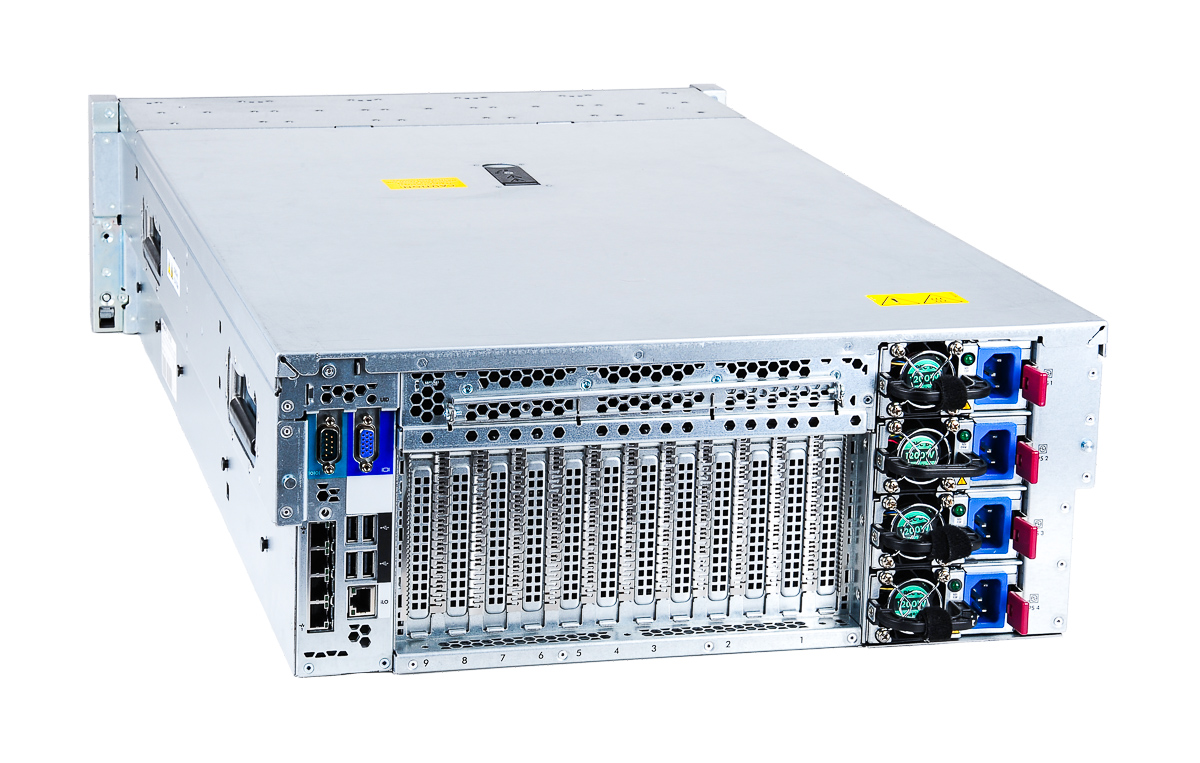 Memory-intensive applications benefit from a high number of available DIMM slots (Dual In-line Memory Module) for the installation of RAM modules (Random Access Memory), with different generations supporting different DDR RAM standards for memory installation. The proven ECC (Error Correcting Code) technology reliably reduces memory errors, enabling the server to be used in critical business areas.
With four height units, the server chassis also provides enough space for extensive expansion options without having to rely on PCIe risers. This means that PCI Express expansion cards can be installed vertically in the full-height PCIe slots, for example to integrate multiple graphic cards or compute accelerators for demanding HPC (High Performance Computing) applications. The PCI Express standard supported may vary by server generation.

The HPE ProLiant DL580 can also be configured to meet individual connectivity and storage requirements with the appropriate slots. Network cards provide connectivity to your existing network environment, and a variety of RAID controllers (Redundant Array of Independent Disks) offer extensive configuration options for storage management. 
Depending on the requirements of the application, controllers for hard disks with different transfer standards such as SATA (Serial AT Attachment), SAS (Serial Attached SCSI) and NVMe (Non-Volatile Memory Express) can be used. This provides a wide range of options for achieving the required storage capacity and transfer speed with HDD (Hard Disk Drive) and SSD (Solid State Drive) drives.
Refurbished HPE ProLiant DL580 servers available at affordable prices - ServerShop24
For the expansion of complex IT environments with high-performance server solutions, used and carefully tested HPE ProLiant DL580 servers from our online shop are often an ideal alternative to expensive new hardware. The powerful and reliable servers from different generations can often fully meet most of the requirements of modern infrastructures and are easy on your budget with an excellent price-performance ratio. The environment also benefits from the reuse of refurbished IT systems, as the reduction of electronic waste makes a significant contribution to the sustainable use of natural resources.
With over 10 years of experience, we are your competent partner for professionally refurbished used servers, workstations, storage systems and network equipment. Our range includes hardware from leading manufacturers, which you can order pre-configured or customised to meet your infrastructure requirements. Fast shipping from our large stock enables short delivery times, so you can receive and use urgently needed spare parts without long waiting times. Our experienced and friendly support team can assist with any questions you may have about products, configuration options and your order. Contact us - we will take care of your request.